Fuel Up With Local, Organic & Sustainable Ingredients
We want you to feel good when you eat at our Bistro – in belly, mind, and heart. We always choose organic when possible to ensure we are delivering you food that fuels your healthy lifestyle. We are community inspired and committed to finding products that are locally grown or produced. We believe in using sustainable ingredients, so you can be confident you are supporting both your neighbours and your planet. Our goal to reduce our footprint on the world continues into our Bistro. From donating our juice pulp to animal shelters, partnering with suppliers who are passionate about reducing waste, and choosing compostable takeout containers where possible – giving you our best is our priority.
Discover How We Do Things Differently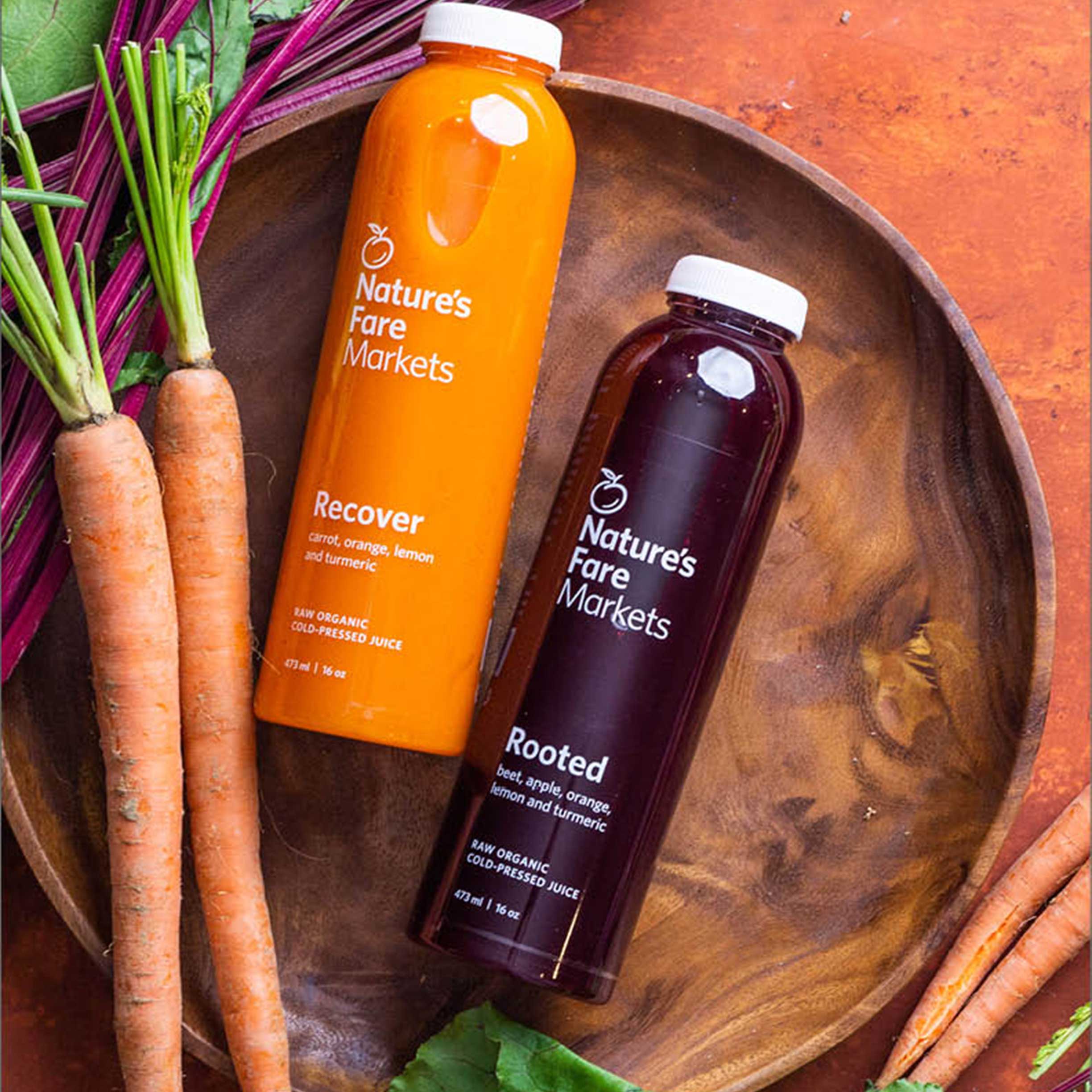 Cold Pressed Juices
Made by our passionate in-house foodies, these delicious, 100% organic, cold-pressed raw juices pack a powerful antioxidant punch. With at least 2lbs of fruits or veggies in every bottle they are packed with valuable enzymes, vitamins, and are a great nutritional boost on the go.
Kitchen Crafted Meal Kits
We are excited to bring you a new solution for meal planning—meal kits! Created by our own chefs, each kit contains virtually everything you need to make a delicious restaurant-quality dish at home. No membership or subscription needed, just pick them up and cook!
Smoothies
Our smoothies are made from 100% certified organic produce, no concentrates, or artificial flavours. From fruity to green veggies all our blends are crafted to pack the most flavour and nutrition into each sip. Don't miss the chance to try one of our seasonal blends.
Salads & Bowls
Our hearty salads and bowls are filled with fresh and organic ingredients. We put a spin on classics like our Vegan Kale Caesar salad with tempeh bacon and Cashew Caesar Dressing. Customers love our Popeye Protein Bowl with sweet potato, spinach, and our wildly popular Vegan Harvest Dressing.
Ready Made Meals
Enjoy delicious and nutrition ready made meals for one. Choose from a variety of meals packed with organic produce and free-range meats or plant-based options. All you have to do is heat and enjoy.
Gluten-free, Vegan & All Dietary Needs
Good-for-you fare for everyone to enjoy. We serve up a variety of food, including vegan, vegetarian, gluten-free, and paleo.
Organic
Our produce is always 100% certified organic and we use organic whenever possible for every other ingredient from the soup to muffins, you always get our best.
Ethical Meals
We only choose ethically raised animals with no medications, hormones, fillers, or MSG. Using ingredients with our high standards is key to the quality and taste of our Bistro items.
Support Local
We're committed to supporting local vendors whenever possible. We task our team with finding local organic farmers to partner with and are always on the lookout for locally made items that we can add to our Bistros.
Bistro Kitchen
Our passionate team prepares hundreds of fresh meals every day including our famous fragrant soups, hearty sandwiches, wraps, inspired salads, and must-have entrees like flat breads, yam stuffed turkey breast, beef and veggie lasagna, and spiced beet burgers.